The International Centre for Higher Education Innovation under the auspices of UNESCO (UNESCO-ICHEI) and the Southern University of Science and Technology (SUSTech) on December 6 successfully held the first sub-forum of the Global MOOC and Online Education Conference 2021.
Representatives from education authorities and higher education institutions and leading experts in the educational field, covering 15 countries of four regions, attended the sub-forum and exchanged views on the theme "Building Future-Ready Higher Education through Equitable and Quality Online and Blended Teaching and Learning."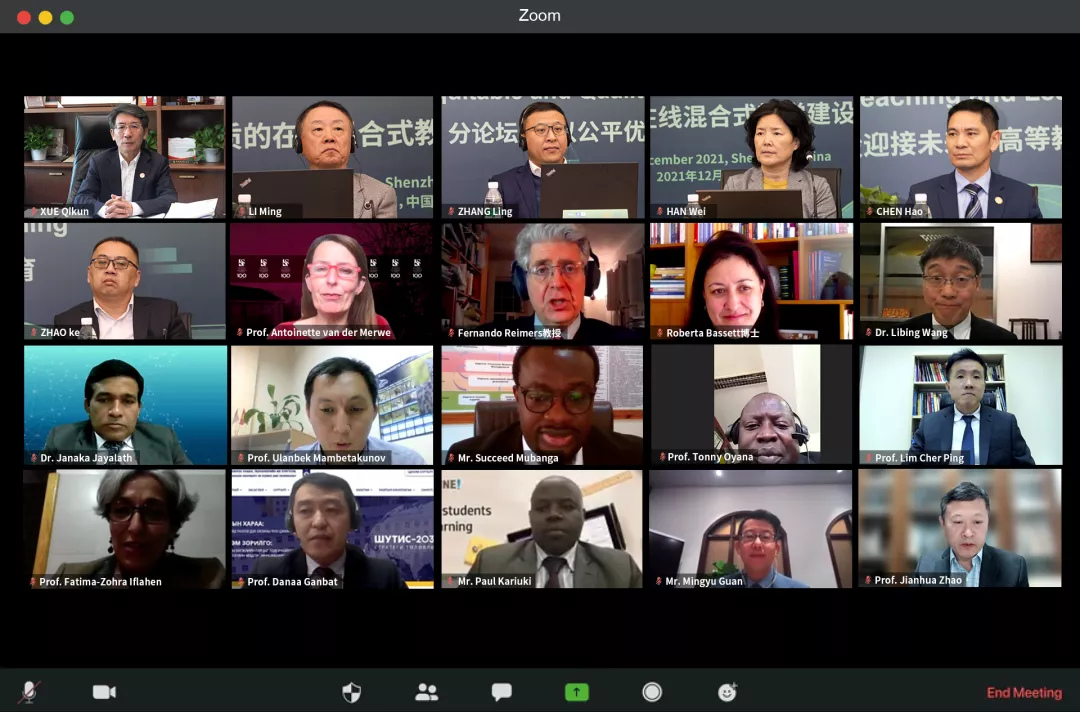 The sub-forum was one of the six sub-forums of GMOEC 2021, which is being held under the broad theme of "Together for a Shared Future – Leading Higher Education Innovation in the New Digital Era."
At the first sub-forum, speakers shared their insights and experiences from the perspectives of global discourse and research, international/national policies and outstanding practices of higher education institutions worldwide.
Prof. Xue Qikun, President of SUSTech, delivered opening remarks at the sub-forum. He pointed out that MOOC and online education have become the driving force for equitable and quality higher education and solutions to the global education crisis.
"Joint efforts by global higher education institutions and partners, and guidance and support from UNESCO and government agencies are both indispensable to the development of global MOOCs and online education," he added.
Prof. Xue said that through active collaboration with UNESCO-ICHEI on the International Institute of Online Education project and the Smart Classroom project, SUSTech has supported higher education teacher capacity building and digital infrastructure building in more than twenty developing countries in Asia and Africa, and that it looked forward to further deepening its engagements in developing MOOCs and online education and strengthening partnerships with global higher education institutions.
Keynote Presentation
During the keynote presentation, Prof. Fernando Reimers, Ford Foundation Professor of Practice in International Education at the Harvard Graduate School of Education and a member of the International Commission on the Futures of Education at UNESCO, delivered a keynote speech titled "Innovation in Higher Education, Using Technology to Build Back Better."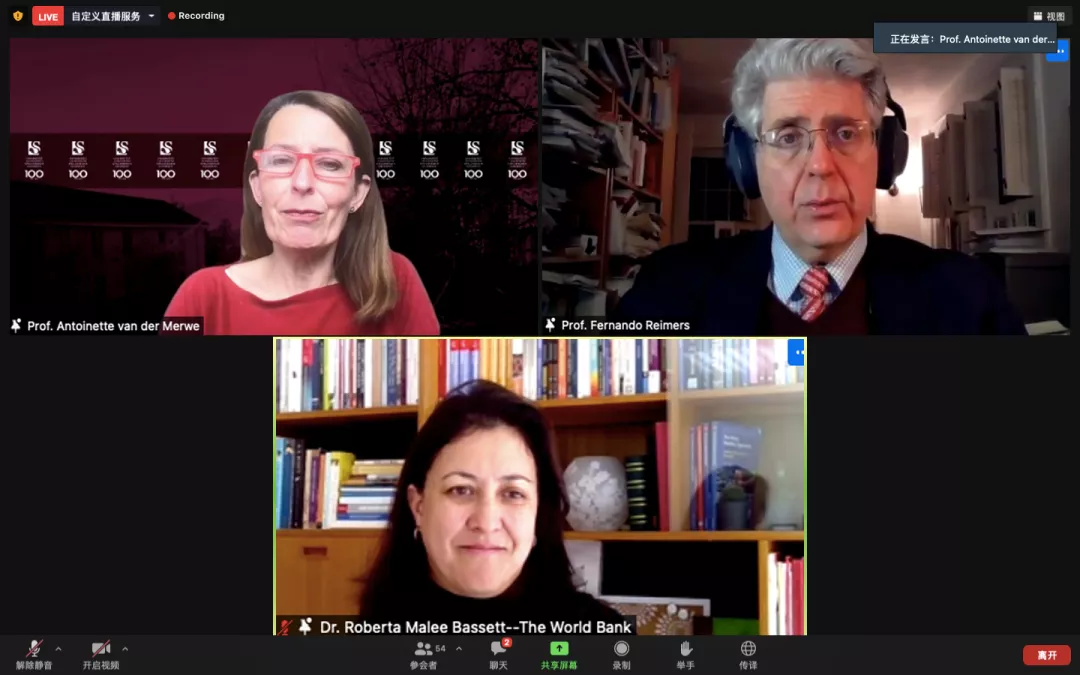 Professor Reimers said: "Studying a university's responses during the pandemic provides insight into its responsiveness to complex social challenges, and its ability to operate as learning organizations, open to their outside environment."
Dr. Roberta Bassett, Global Tertiary Education Lead at the World Bank Group, delivered a keynote speech titled "STEERing Tertiary Education——Toward Resilient Systems that Deliver for All." During the speech, Dr. Roberta Bassett presented the World Bank's STEERing framework and approaches to developing effective, equitable, efficient and resilient higher education systems.
Policy Roundtable
Experts, scholars, representatives of higher education institutions, education officials and policymakers from West Asia, Africa, and the Asia-Pacific region attended a policy roundtable discussion titled "Creating a Conducive Policy Environment for Building Future-Ready Higher Education driven by Online and Blended Teaching and Learning (OBTL)."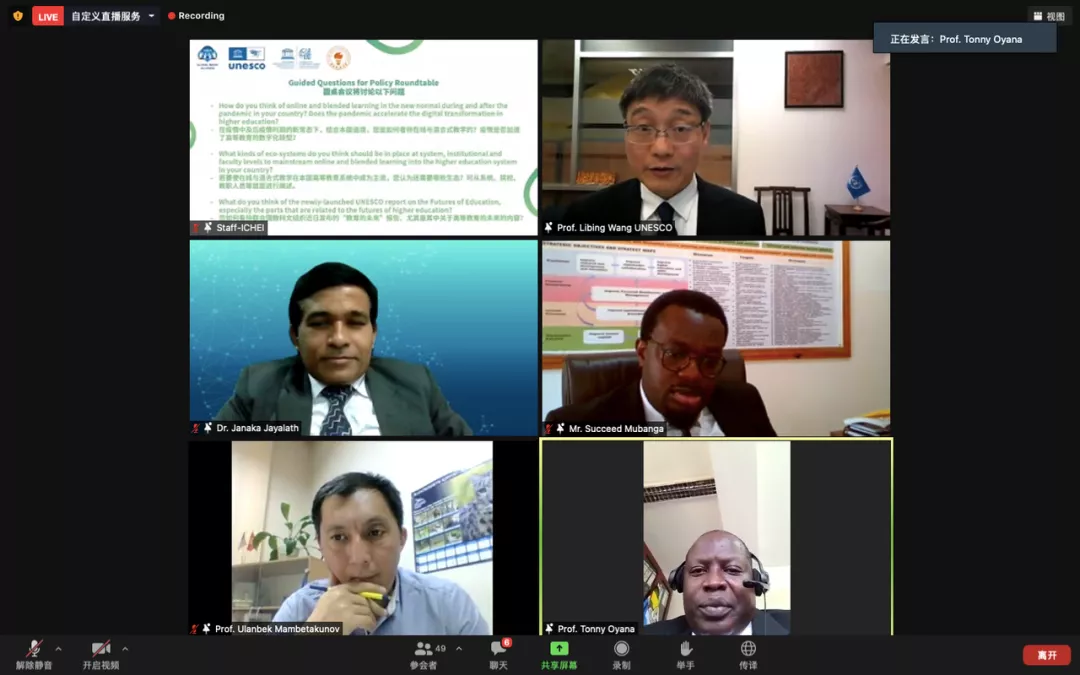 Chaired by Dr. Libing Wang, Chief of Section for Educational Innovation and Skills Development at the UNESCO Asia-Pacific Regional Bureau for Education, the session consisted of Dr. Janaka Jayalath, Deputy Director-General of the Tertiary and Vocational Education Commission in Sri Lanka, Professor Ulanbek Mambetakunov, Vice-President of the Academy of Education under the Ministry of Education and Science in Kyrgyzstan, Succeed Mubanga, Director of Planning and Information at the Ministry of Technology and Science in Zambia, Professor Tonny Oyana, Principal of the College of Computing and Information Sciences, Makerere University in Uganda.
The speakers discussed relevant strategies adopted by higher education institutions in response to the COVID-19 pandemic, highlighting that, to meet the learning and teaching challenges posed by the COVID-19 pandemic, higher education institutions should focus on building strong networks and digital infrastructure.
Selected Case Presentations
The sub-forum also saw selected case presentations made on the topic of "Innovative and Contextualised Practices in implementing Equitable and Quality OBTL." The session was chaired by Professor Cher Ping LIM, Chief Expert of IIOE at UNESCO-ICHEI and the Chair Professor of Learning Technologies and Innovation at the Education University of Hong Kong.
Guest speakers shared their valuable insights on the practices and experiences of their respective colleges and universities in carrying out OBTL against the backdrop of the COVID-19 pandemic.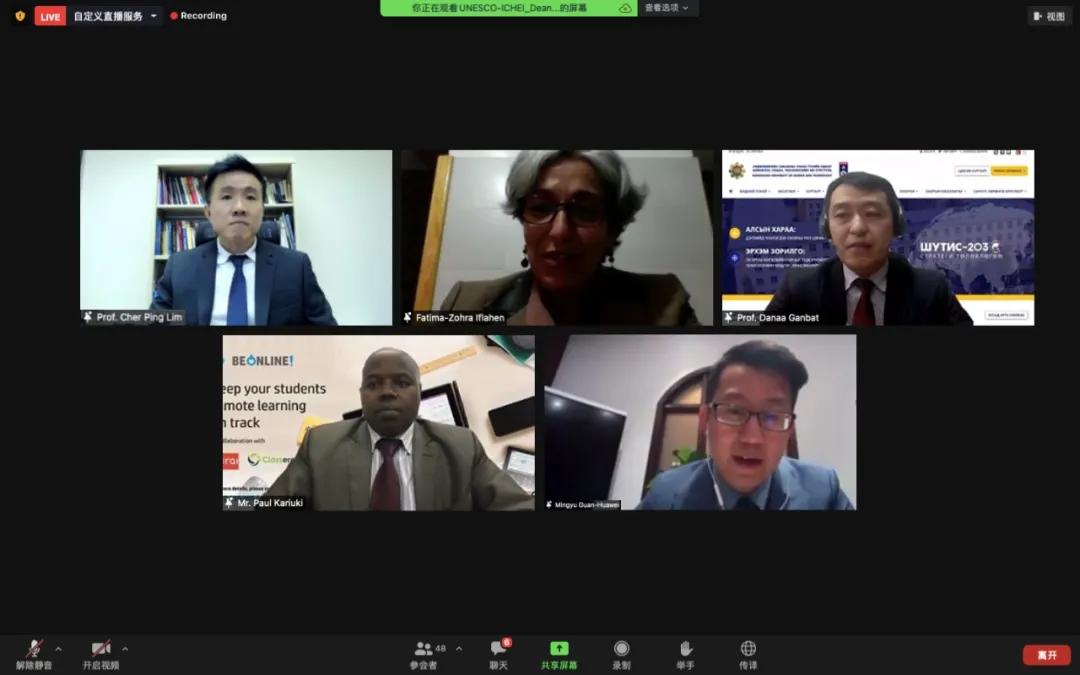 Professor Fatima-Zohra Iflahen, Vice President of Cadi Ayyad University in Morocco, highlighted the importance of promoting equitable and quality OBTL.
Professor Danaa Ganbat, Director of the Open Education Centre at the Mongolian University of Science and Technology, shared that even higher education institutions in Mongolia rapidly moved towards online teaching during the COVID-19 pandemic, they needed to accelerate the implementation of multi-dimensional measures such as research on online education and capacity building of teachers to ensure the effective implementation of OBTL at the local level.
Paul Kariuki, Director of the Information Communication and Technology Centre at the University of Nairobi in Kenya, noted that since the outbreak of the COVID-19 pandemic, the University of Nairobi had upgraded its ICT infrastructure and worked with telecommunications providers to build an online education platform, ensuring the implementation and quality of local online education.
Mingyu Guan, Global Talent Alliance Partner Operation Director from Huawei, introduced Huawei's "Learn ON" action plan and "Instructor-led learning platform" project.
The first sub-forum concluded with closing remarks from Professor Jianhua Zhao, Associate Director of the Centre for Future Education Research at SUSTech.
He said: "Today's experience and case sharing have given us a lot of inspiration. In terms of infrastructure, innovation, technology, and policy, I believe that today's sub-forum content will pay the way for more collaboration for building future-ready Higher Education."