Win-win cooperation creates a new dimension in digital education.
The conference officially launched the Global MOOC Alliance (GMA), Tsinghua University will serve as its inaugural chair
The Global MOOC Conference was held at Tsinghua University from December 9th to 11th. With the theme of "Learning Revolution and Higher Education Transformation", this event was the first global conference featuring MOOC since its rise. This conference aimed to build consensus on development, gather innovative forces, share practical experience, and deliver technological prospects, in order to promote the construction, development and sharing of MOOC and online education across the world. China's Minister of Education Chen Baosheng delivered a keynote speech, sharing the practical insights, innovation and exploration of China's MOOC and online education.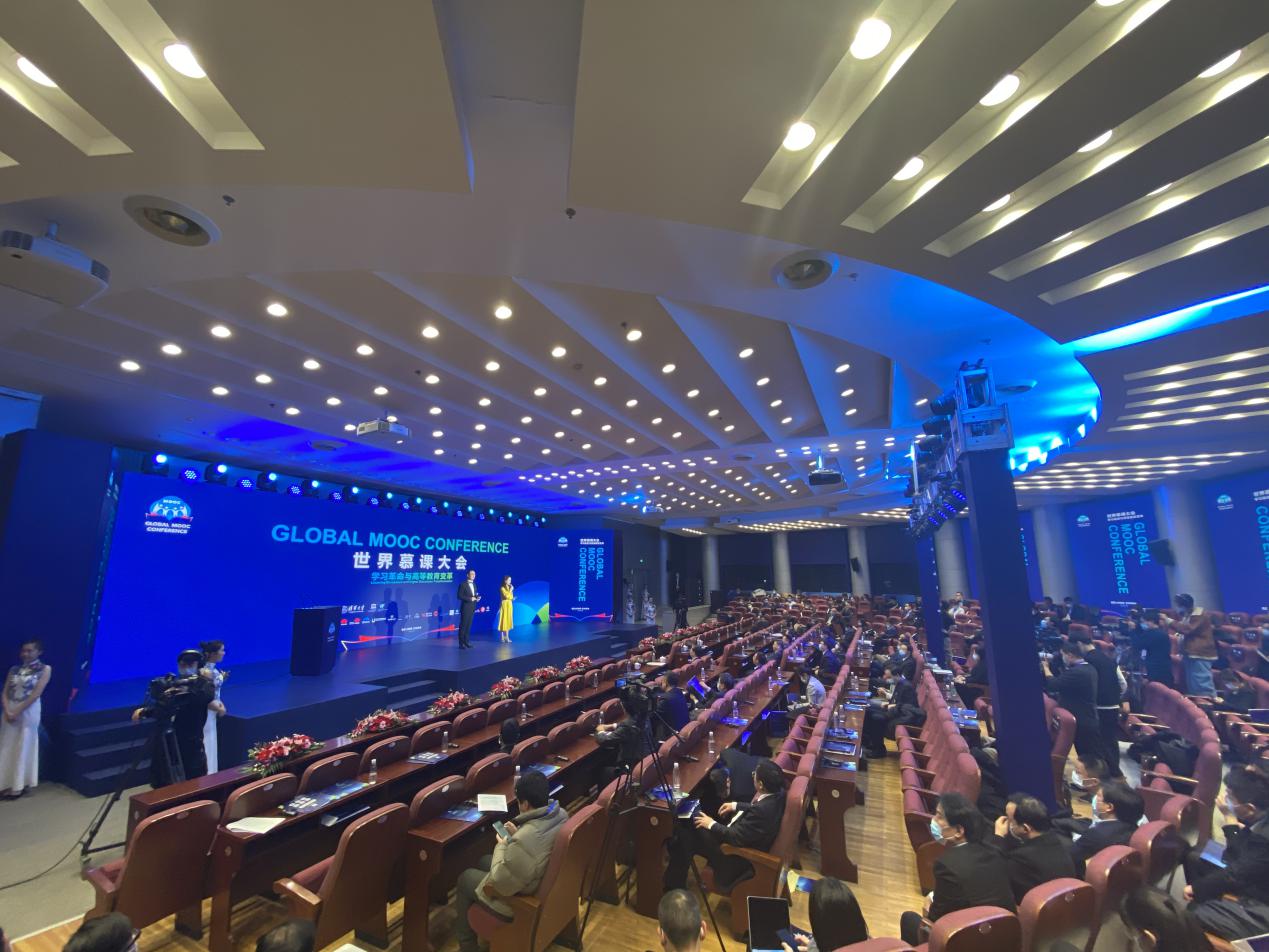 Stefania Giannini, UNESCO's Assistant Director-General for Education, Qiu Yong, founding president of the Global MOOC Alliance and the President of Tsinghua University, Andreas Schleicher, OECD's Director for Education and Skills and Special Advisor to the Secretary-General,and Chen Xu, Chairperson of Tsinghua University Council attended the conference. Representatives and guests from more than 2,000 international organizations, government agencies, universities and online education institutions attended the conference offline and virtually.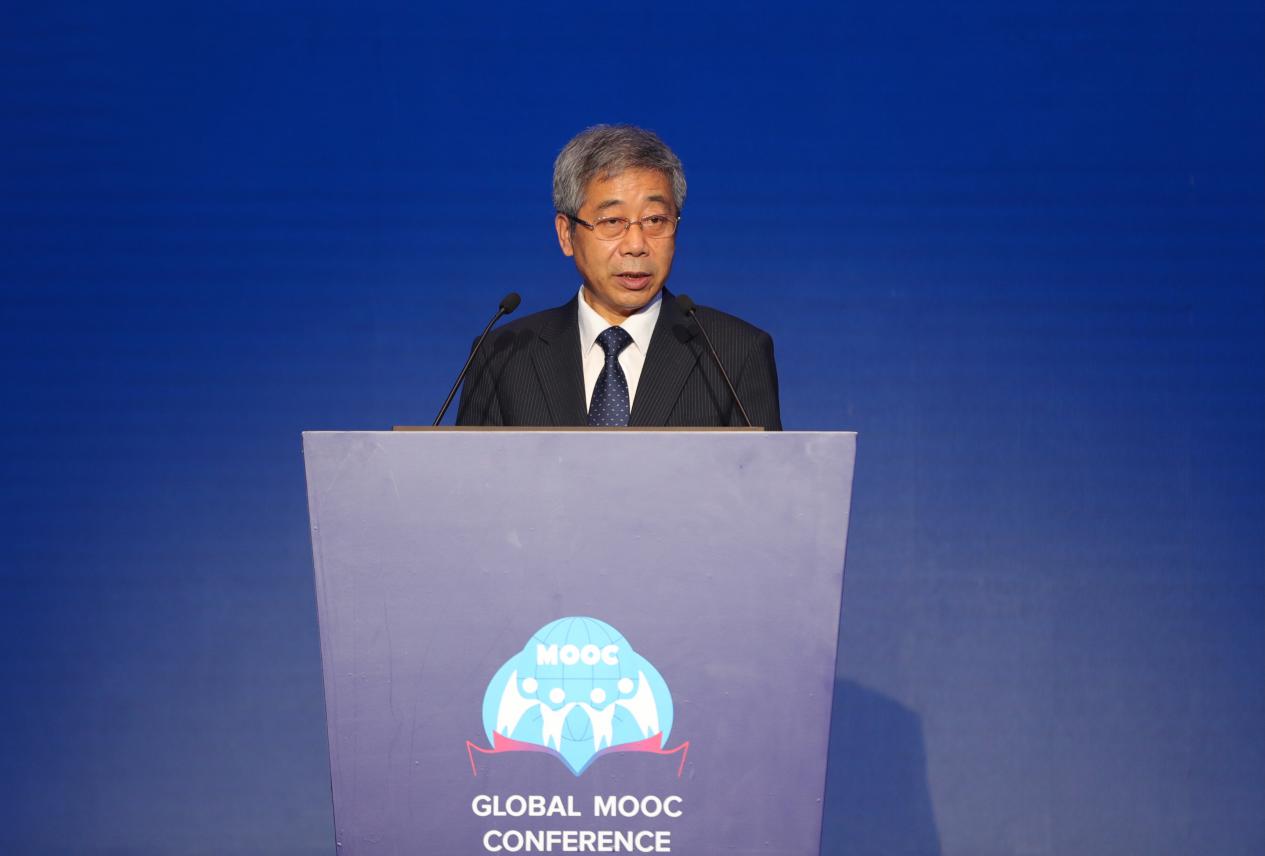 Chen Baosheng pointed out that in the practice of global education innovation, MOOC is becoming an important engine for promoting reform in higher education. It supported Chinese universities'efforts to effectively manage the pandemic crisis while accumulating valuable experience for the development of a high-quality education system for lifelong learning. He stated that after eight years of hard work, the number and scale of MOOCs in China ranks first in the world. We have gradually established a unique development model, scientific and reasonable curriculum standards, and an open and cooperative mechanism of co-construction and sharing. At present, we have identified six valuable experiences, such as insisting on quality-first, fairness as an essential, student-centered learning, teacher-led instruction, openness, and win-win cooperation.
Chen Baosheng expressed that in 2020, mankind has experienced the most serious pandemic in a century. In response to this crisis, the Chinese government has made the decision to "suspend classes without stopping teaching and learning", facilitating the roll-out of an unprecedented large-scale online education practice with teachers and students across the country. This strategy effectively addressed the pandemic crisis, and realized the substantial equivalence of online teaching and classroom teaching. In the post-pandemic era, China's education has entered a new stage of high-quality development, integrating the advantages of MOOC and online education, which is conducive to building a lifelong learning system for all with more flexible methods, richer resources, and more convenient learning, cultivating anytime, anywhere learning opportunities that extend beyond the school.
Chen Baosheng advocated for countries to uphold the principle of win-win cooperation, openness and tolerance, increase MOOC and online education resources construction, enhance the applicability and sharing of MOOC and online education resources, encourage personalized learning and lifelong learning, and promote the innovative development of MOOC and online education., and jointly promote the construction, development and sharing of MOOC and online education.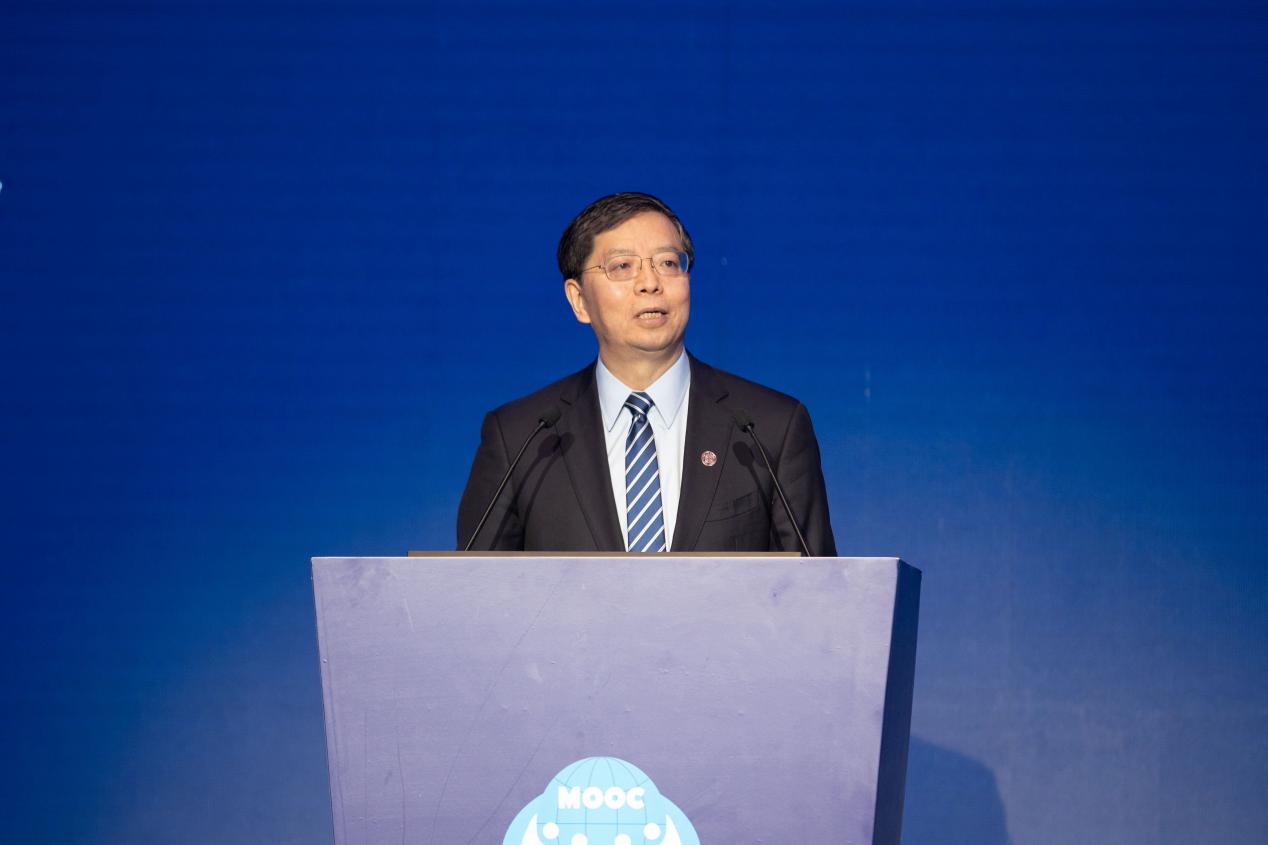 After eight years of continuous innovation and practice, MOOC and online education have made remarkable progress, President Qiu said in his speech.
In this regard, the pandemic has caused serious damage to the education system and traditional education models; yet in turn, it has also empowered MOOC and online education to have a large-scale, well-organized, and all-round-system application worldwide for the first time, which truly becomes a new form of education.
"The golden opportunity is right before us so that we should join hands to face challenges, tap into potential opportunities, and create new journeys, striving to build universities with more openness, integration, and resilience," President Qiu said.
"To build universities with more openness and promote equity in education. More openness means relief from physical boundaries, technical restrictions, and identity constraints, enabling more high-quality educational resources to be shared with learners around the world in a more convenient and effective manner. Universities with more openness will achieve equity in education on a larger scale, promote lifelong education with more effectiveness, and advance exchanges and cooperation among the global society and mankind with an inclusive humane sentiment and a broader vision for school management," said President Qiu.
"To build universities with more integration for embracing the learning revolution. The integration of information technology progress and sharing of knowledge creation has redefined the education forms, learning ecology, and innovation ecology. More integration means that diverse learning needs should be fully satisfied, and various learning content, approaches, methods, and evaluation should realize in-depth coordination. It is necessary to adopt intelligent education tools to enhance active and in-depth interaction between teachers and students, scientifically design more effective and personalized strategies for teaching and learning, and better ensure that students are taught in accordance with their aptitude, thus ultimately innovating learning paradigms and improving the quality of education." he added.
"To build universities with more resilience and advance higher education transformation. More resilience means stronger immunity to external interference and impact, and more choices when facing crisis or challenges. Creating knowledge, disseminating ideas, and cultivating talents are the incumbent responsibility of universities. When a crisis hits, we should not only be able to deal with it and rise to the challenge but be capable of navigating situations and converting crises into opportunities. It is our mission to always guide in the right direction and keep making breakthroughs even in an environment full of turbulence and uncertainty." said Qiu.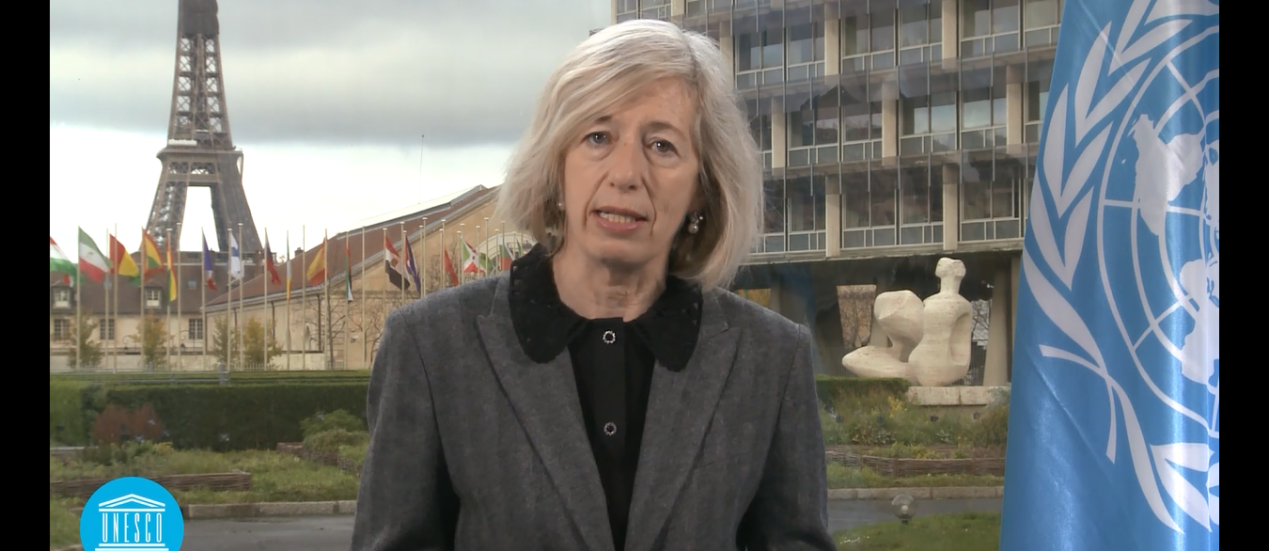 In her opening speech, Stefania Giannini stated that UNESCO has always placed great importance to the development of MOOCs and online education. She said that after the coronavirus outbreak, online education platforms around the globe have made active efforts to introduce online courses in more languages, expanding learning opportunities for learners from developing countries.
She pointed out that various online education platforms, including XuetangX established by Tsinghua University, have benefited millions of learners from developing countries with high-quality educational content.
She expressed the hope that educational institutions from all over the world can fully communicate and cooperate with UNESCO members, and jointly contribute to the inclusive and equitable quality education proposed in the United Nations Sustainable Development Goals.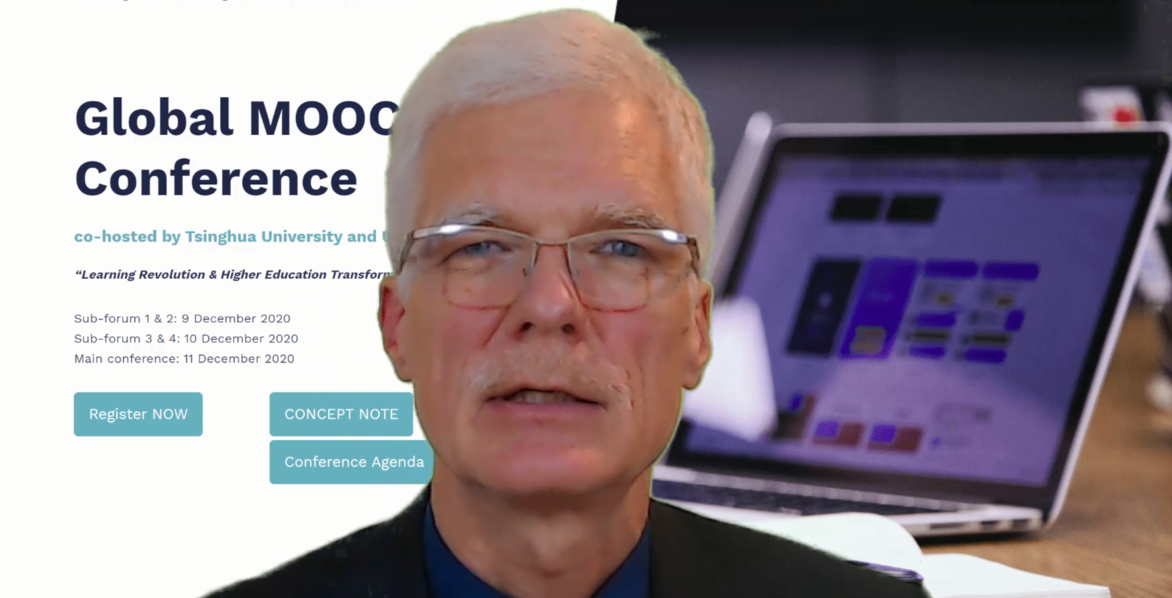 Andreas Schleicher stated that the COVID-19 pandemic has exposed many shortcomings and issues of traditional education while bringing new development opportunities.
Online education technology brings opportunities for everyone to learn, and to learn at anytime and anywhere, while at the same time it greatly encourages the improvement in teachers' teaching ability, he said, adding that the pandemic has accelerated the application of educational technology and transformation in teaching methods.
The conference announced the official launch of Global MOOC Alliance. The GMA secretariat has been established at Tsinghua University, which will serve as its inaugural chair.
The alliance brings together 20 global higher education institutions and online education platforms, with the aim of taking advantage of global educational opportunities and meeting the challenges arising from the age of internet and the globally spreading pandemic.
Tsinghua University, as an important contributor to MOOC and online education, initiated the alliance this September, and it has received positive responses from 17 universities and three well-known higher education institutions and MOOC platforms in 14 countries across the world. The members of the alliance include Cornell University, Center for Research and Interdisciplinarity (CRI), edX, Mongolian University of Science and Technology, Nanyang Technological University, Peking University, Polytechnic University of Milan, Rice University, RWTH Aachen University, Saint Petersburg State University, Shanghai Jiao Tong University, Thai MOOC platform, Tsinghua University, The University of Auckland, University of Chile, The University of Manchester, University of Nairobi, University of Toronto, XuetangX and Zhejiang University.
Tsinghua University and UNESCO IITE had earlier extended invitations to globally renowned colleges and universities and MOOC platforms to discuss the future of MOOC and online education. Following extensive rounds of consultation, multiple parties reached a consensus and the Beijing Declaration on MOOC Development was unanimously endorsed.
The declaration outlined a four-point consensus reached by the participants of the Global MOOC Conference regarding the role of MOOC and online education: To keep learning undisrupted, transform the educational model, turn crisis into opportunities and find social solidarity through education. It also emphasized that the transformation of global higher education through MOOC and online education should uphold the characteristics of equity, quality, innovation and service.
Additionally, the declaration recommended that UN organizations, international and regional organizations, governments, universities and online education institutions around the world should deepen international exchanges and cooperation, accelerate the building up of infrastructure for communication, promote the openness and sharing of MOOC and online education resources, and jointly promote the setting of international technical and curriculum standards for MOOC and online education, joining hands to build, develop and promote MOOC and online education to better serve society.
Svetlana Knyazeva, Chief of the Unit of UNESCO IITE's Digital Pedagogy and Learning Materials (DPLM), Anant Agarwal, Founder and CEO of edX, Nikolay Kropachev, the Rector of Saint Petersburg University, Ennio Vivaldi, President of the University of Chile, Stephen Kiama, Vice-Chancellor of the University of Nairobi, and Wu Yan, Director General of the Higher Education Department of the Ministry of Education (MOE) delivered addresses respectively.
From December 9th to 10th, Global MOOC Conference also held 4 sub-forums, the guests shared the various experiences from the front-line practice of online education around 4 topics, including "Learning Revolution" for MOOC Platforms (Organized by Tsinghua University, XuetangX, iCourse), Virtual Simulation: Information Technology and Educational Reform (Organized by The Chinese Virtual Reality Experiment Teaching Innovation Alliance), Resource sharing for MOOCs and Global Higher Education Cooperation (Organized by UNESCO-ICHEI) and MOOCs: "Learning Revolution" for Better University Education (Organized by The Chinese University Steering Committee on Teaching Informationization and Pedagogical Innovation), and explored the future MOOC and online education development.
The conference was broadcast live on various network platforms such as People's Daily Online, Xinhuanet, and CCTV.
This article first appeared on https://news.tsinghua.edu.cn/en/info/1002/10650.htm