Speech at the Global MOOC Conference
December 11, 2020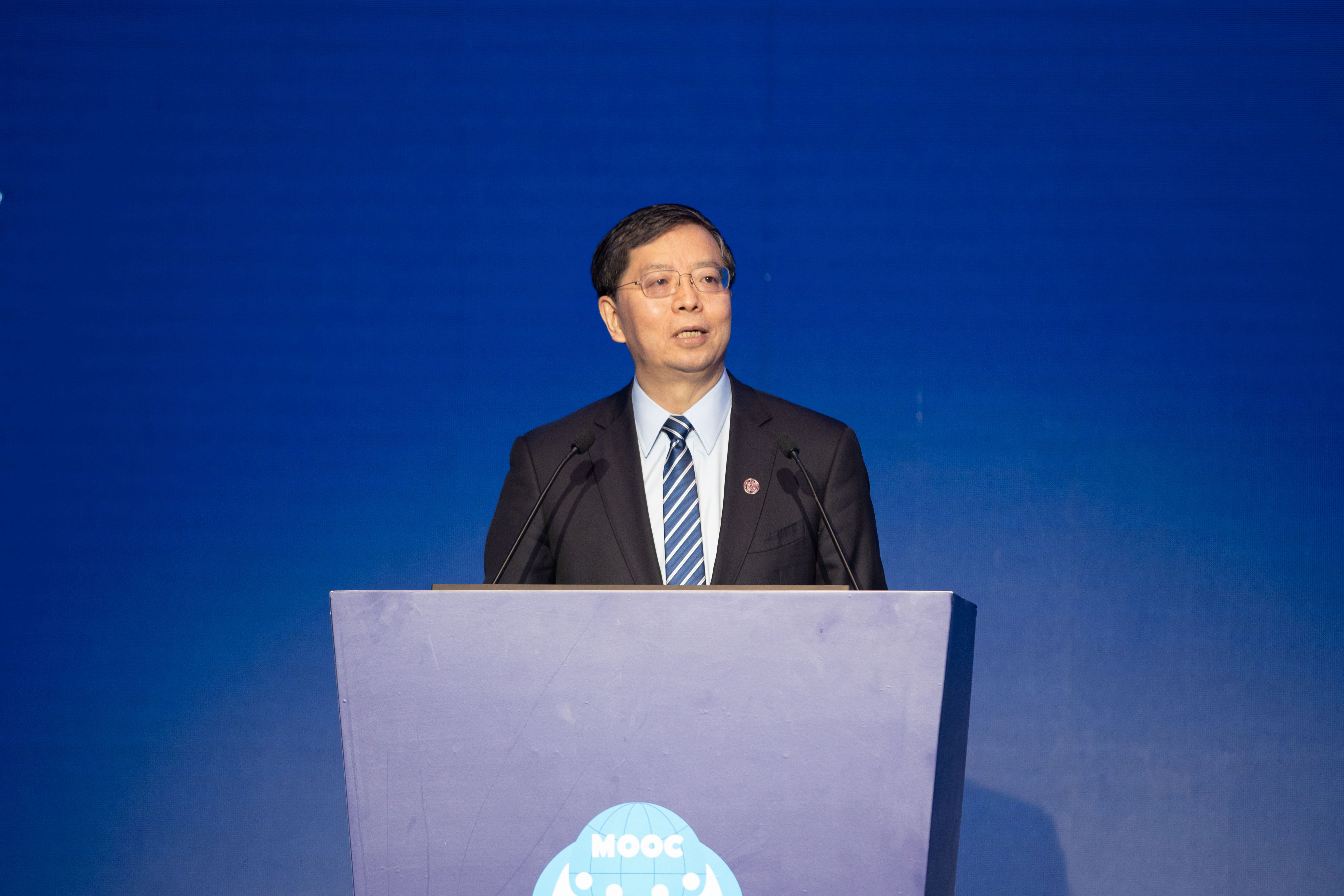 Honorable Minister Chen Baosheng, Ms. Giannini, and Mr. Schleicher,
Ladies and Gentlemen, dear friends:
Good evening. It's fair to say that 2020 is meant to be an extraordinary year. On this occasion when we are about to bid farewell to this year, the first Global MOOC Conference is hereby grandly convened in the form of online and offline integration, with the participation of representatives and guests from over 2,000 international organizations, government agencies, universities, and online education institutions around the world. At the same time, 17 universities and 3 online education institutions in different corners of the world jointly established the Global MOOC Alliance. I believe that the convening of this Global MOOC Conference and the establishment of this alliance are of great significance for promoting the transformation of higher education and achieving more inclusive and high-quality education. Here, on behalf of Tsinghua University, I would like to extend my warmest welcome to all the guests and friends present at the conference!
2012 is regarded as the first year of the global MOOC. After eight years of continuous innovation and practice, MOOC and online education have made remarkable progress. But in 2020, the abrupt outbreak of COVID-19 has posed unprecedented challenges to the whole world and brought unforgettable memories to us all. According to statistics from UNESCO, approximately 1.6 billion students in more than 190 countries and regions have been severely affected by the pandemic, and there are still more than 300 million students who cannot study at school. In this regard, the pandemic has caused serious damage to the education system and traditional education models; yet in turn, it has also empowered MOOC and online education to have a large-scale, well-organized, and all-round-system application worldwide for the first time, which truly becomes a new form of education. All the people present here today have participated in and witnessed this pivotal process of transformation and from this, we can deeply feel the tremendous impetus of the drastic changes in the social environment to the educational transformation and the revolutionary impact of information technology on education. More importantly, we have once again deeply experienced the significance and value of education to human beings, which not only inherits the quintessential of human civilization but carries our hope for the future.
The theme of today's conference is "Learning Revolution and Higher Education Transformation". I think that the revolution is around us, and the transformation has already begun. The golden opportunity is right before us so that we should join hands to face challenges, tap into potential opportunities, and create new journeys, striving to build universities with more openness, integration, and resilience.
To build universities with more openness and promote equity in education. More openness means relief from physical boundaries, technical restrictions, and identity constraints, enabling more high-quality educational resources to be shared with learners around the world in a more convenient and effective manner. Universities with more openness will achieve equity in education on a larger scale, promote lifelong education with more effectiveness, and advance exchanges and cooperation among the global society and mankind with an inclusive humane sentiment and a broader vision for school management.
To build universities with more integration for embracing the learning revolution. The integration of information technology progress and sharing of knowledge creation has redefined the education forms, learning ecology, and innovation ecology. More integration means that diverse learning needs should be fully satisfied, and various learning content, approaches, methods, and evaluation should realize in-depth coordination. It is necessary to adopt intelligent education tools to enhance active and in-depth interaction between teachers and students, scientifically design more effective and personalized strategies for teaching and learning, and better ensure that students are taught in accordance with their aptitude, thus ultimately innovating learning paradigms and improving the quality of education.
To build universities with more resilience and advance higher education transformation. More resilience means stronger immunity to external interference and impact, and more choices when facing crisis or challenges. Creating knowledge, disseminating ideas, and cultivating talents are the incumbent responsibility of universities. When a crisis hits, we should not only be able to deal with it and rise to the challenge but be capable of navigating situations and converting crises into opportunities. It is our mission to always guide in the right direction and keep making breakthroughs even in an environment full of turbulence and uncertainty.
I would like to quote a Chinese poem written by Wang Anshi, a thinker and reformer in the Song Dynasty over nine hundred years ago: "I have no fear that floating clouds may blur my eyes, for on the topmost storey of the building am I." The year 2020 is a watershed in human history. As a beacon of human civilization, universities must stand at the high point of historical development and civilization progress, adhere to the principles of education, enable the light of truth, wisdom, and morality to illuminate the sky of history, and shape our future with the power of education!
Once again, I would like to extend a warm welcome to you all. I wish this conference a complete success!