One story told of a young dinosaur coping with her parents' divorce, while another followed the trials of a worried mouse named Wemberly. A boy learned to handle life's challenges with the help of a porcupine, and a girl braved the move from Lebanon to Canada.
These were just a few of the tales read aloud by University of Toronto (U of T) students and members of the Children's Book Bank, a charity that provides free books and literacy support to children and families in high-needs neighbourhoods across the city.
As part of the non-profit organization's "Mental Health Story Time," more than 20 students produced YouTube videos featuring recorded picture book readings, complete with lessons for children dealing with anxiety or sadness during the pandemic.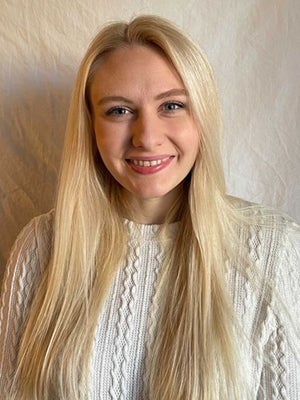 "From the start, it was just an amazing experience," says Janine Cik, a third-year student who is majoring in urban studies and human geography. "This is something that I'm going to be reflecting on for a long time."
The Children's Book Bank, which has been in Toronto's Regent Park neighbourhood for 13 years, was started by a group of women who wanted all children to have access to books. Studies have shown that children are more likely to attain a higher level of education when they have books at home.
The book bank aims to complement the library experience, which can be difficult to access for families who don't have a fixed address. At the book bank's storefront, no identification is required, and families and children are invited to select and keep books from a large inventory of titles.
The Children's Book Bank also hosts drop-in story times and special holiday events for the community. But when the pandemic hit, much of the book bank's programming had to be adapted.
"We had to pivot like everybody else," says Loribeth Gregg, manager of programming and volunteer engagement at the Children's Book Bank.
So, the book bank moved its programming online – and enlisted U of T students to help through Student Life's Centre for Community Partnerships.
One of the projects U of T volunteers took on involved a "Bookworms" blog started by Gregg. Participants in the book bank's Online Youth Reading program wrote blog posts and volunteers responded with encouragement and commentary. They also kept track of the children's reading progress and maintained a scoreboard for their reading goals.
"Between summer and fall, (my daughter) made a total of 89 posts," says one parent in a written testimonial. "Every single book she read, she read with excitement, as she knows she will be rewarded by nice comments from staff of the book club."
Another major project was "Mental Health Story Time," for which Cik served as a group co-facilitator. She worked with a team of nine other U of T students to promote the recorded readings on social media and garner engagement for the Children's Book Bank YouTube channel, where the videos are posted.
For Cik, who aspires to become a community planner, the volunteer work gave her a first-hand look at the rewards and challenges of running a non-profit in the city.
"It allowed me to understand the community members that they are serving," Cik says. "I would really recommend it to any student."
Throughout her involvement, Cik says she was frequently reminded of the organization's fortitude.
"I learned that community organizations are strong and resilient," she says. "They are not in need of saviours. The work we were trying to do was just to enhance what they've already been doing and how successful they've already been."
For Mary Ladky, the book bank's executive director, the non-profit's collaboration with the Centre for Community Partnerships is a perfect marriage of theory and practice.
"One of the things we were able to offer the students was a meaningful real-life situation," says Ladky who holds a doctorate in education from U of T's Ontario Institute for Studies in Education.
That included having the students put together a 30-page report with maps and analyses of the neighbourhoods that would benefit most from a brick-and-mortar book bank – part of the Children's Book Bank exploration of a possible expansion into other high-needs neighbourhoods.
"It seemed to be a genuine thrill for them to be able to apply what they were learning in class to a real-life challenge," Ladky says. "What are the qualities that make this a low-income neighbourhood, and why would a book bank benefit them? It was up to the students to figure that out."
As the organization grappled with the limitations foisted on it by the pandemic, the students contributed their technological savvy and diverse viewpoints.
"It's really lovely how you can feel each student bring their own energy and perspective to the reading," Ladky says. "Also, young people are more at ease with technology. This is expanding our capability, our potential to have influence, in ways I hadn't really thought about before."
The Children's Book Bank is among hundreds of community organizations that U of T's Centre for Community Partnerships works with each year. The centre supports both community-engaged learning courses and co-curricular programs that allow students to engage with local groups and neighborhoods.
Yet, while the programs offer important learning opportunities for students, Jennifer Esmail, director of the Centre for Community Partnerships, says each organization's needs are put front and centre.
"We let the community partner drive the project with their own priorities," she says.
While the Children's Book Bank project officially ended last month, Gregg says several U of T students have continued to volunteer with the organization.
"All the students I worked with are full of passion and drive," she says. "I am really excited to see younger people who will come up and work here someday soon."
(This article was originally published at https://www.utoronto.ca/news/u-t-students-team-children-s-book-bank-promote-reading-regent-park)
University of Toronto is one of the founding members of the Global MOOC Alliance, you might also be interested in…