The third sub-forum of the 2020 Global MOOC Conference was successfully held on December 10.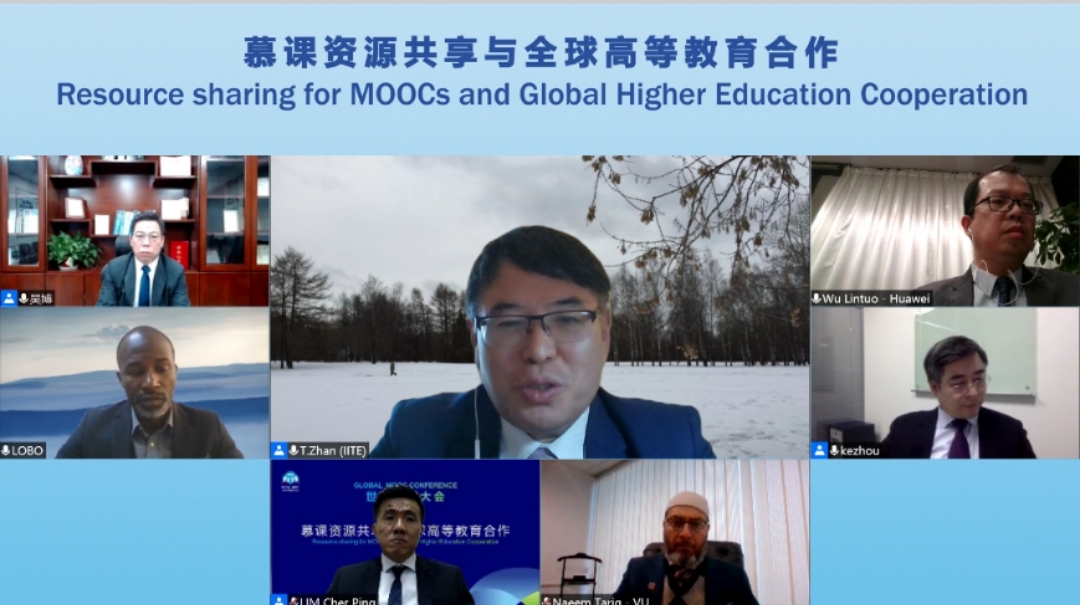 With the theme of Resource sharing for MOOC and Global Higher Education Cooperation, the forum explored the possibility of promoting global higher education cooperation through MOOCs, sharing the premium higher education resources on MOOC platforms to promote higher education equality and achieve SDG 4 – Quality Education.
Miao Fengchun, chief of the Unit for Technology and Artificial Intelligence in Education, UNESCO, Diana Laurillord, professor at Learning with Digital Technologies, UCL Knowledge Lab, Li Ming, professor and the director at International Centre for Higher Education Innovation under the auspices of UNESCO, Lim Cherping, chief expert of IIOE, International Centre for Higher Education Innovation under the auspices of UNESCO, and Zhang Dongxiao, the vice president and provost of the Southern University of Science and Technology, delivered keynote speeches at the first keynote session.
During his speech, Miao proposed that 2020 marks the year of real MOOC for it witnessed a sharp rise in the application of MOOC. In the future, global society should pay more attention to the challenge of the application of MOOCs, as 500 million people in developing countries still can hardly access online learning. He also thinks that although universities are suggested to go beyond the physical confines of campuses, there is no need to rely entirely on digital technology. Technology should be expected to trigger effective learning in schools, homes, and other learning spaces.
Laurillord added that MOOC is a valuable support for teaching and learning in higher education. It matters for teachers to smoothly make good use of MOOCs, and teachers in all countries and sectors need training in how to create high-quality online teaching and learning.
Li and Lim pointed out that in order to truly realize the sharing and globalization of MOOC resources, reform should be carried out at multiple levels, including system, policy, quality assurance and mechanism, and it should be achieved through the non-profit multilateral cooperation among global higher education institutions, MOOCs, information and communication technology enterprises, government and international organizations.
Zhang introduced the technical support behind MOOCs in detail and suggested that we should explore a new model for international support.
In the second keynote session, six speakers from universities in the Asia Pacific and Africa shared their experiences and achievements in advancing MOOC education. Chaired by Zhan Tao, Director of UNESCO Institute for Information Technologies in Education, the Round Table and Discussion (Q&A) Session gathered representatives from iCourse, XuetangX, Virtual University of Pakistan, Virtual University of Côte d'Ivoire, Huawei Enterprise Business Group to discuss how MOOC has promoted the international cooperation among universities. Zhan concluded that the forum provided a valuable chance to explore the use of MOOC resources in terms of promoting global higher education cooperation.
This article originally appeared https://news.tsinghua.edu.cn/en/info/1012/10641.htm